Narendra Bhawan, Bikaner
Narendra Bhawan is a depiction of the last reigning Maharaja of Bikaner, His Highness Narendra Singhji. Unconventionally curated, it is composed of Narendra Singhji's memories from his travels to destinations near and far.
Experiences at Narendra Bhawan, tap into the memories of its original incumbent and takes its guests on a journey through his past wherein the best moments of his life are translated into an array of curious options – some interestingly epicurean, others fantastically novel and everything always enchanting.
In the Guest Rooms the theme of India prevails – past and present as a tribute to Narendra Singhjis eclectic tastes. Elaborate ceilings, Bikaner terrazzo floors and traditional crafts sit in harmony with Portuguese tiles and a distinctly vivid colour palette.
TATHASTU, Luxury Wildlife Resort, Pench
Tathastu is a premium Luxury Wildlife Resort in Pench Tiger Reserve, Madhya Pradesh.
The property offers 10 luxury villas, 4 luxury tents, 4 cave rooms and a tree house as well along with 3 terrace tents.
The cave rooms, first of the its kind in the region have been carved inside a huge created rock.
The property has also set up a new spa spread across of 8000 sq feet offering therapeutic packages, acupressure and acupuncture.
The property offers a multi cuisine menu for its guests along with a jungle bar for a drink.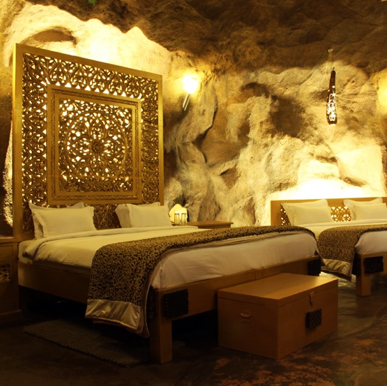 Pepper Trail, Wayanad
Pepper Trail is a boutique plantation retreat set across a 200 acre colonial coffee and spice plantation in the hills of Wayanad, North Kerala.
At the heart of Pepper Trail, is a charming 140 year old colonial bungalow with two elegantly furnished (air-conditioned) suites, each with its own distinct style, restored with its collection of antique furniture. Choose to live in this bungalow or on a luxurious tree house nestled high up amongst the trees.
Inspired by the local Wayanad tribal styles and hand built by traditional craftsmen, both tree houses are unmatched in style, space and luxury.
Explore the many treks and trails at the plantation, catch glimpses of the abundant wildlife or discover local lore with a visit to the prehistoric caves nearby.
Pepper Trail has been listed in the 2016 Hot List of India's Best New Hotels.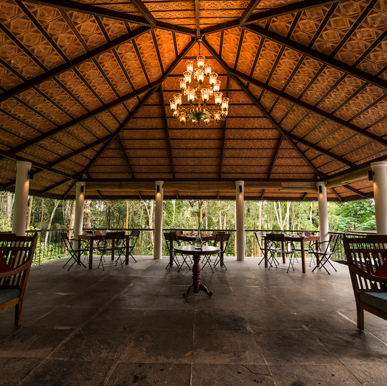 IBNII, Coorg
Nested along the slopes of a former coffee plantation, IBNII is a luxury resort spread over a sprawling 120 acres of sheer evergreen woodlands in Coorg, Karnataka. The resort has 22 private pool villas, 10 wooden cottages, private residences and premium suites. Take an evening stroll with the plantation expert to hear the humble origins of the world's most beloved beverage, enjoy nature walks or try your hand at responsible fishing. The resort uses their own exotic spices in their cooking, make fresh jams, pickles, oven-fresh bread while and are readying their greenhouse to grow fresh vegetables. It is nature at its best.
Hills & Hues – Thekkady
Hills & Hues is situated in Thekkady, Kerala. The property offers pine wood log cabins with six vintage english country style rooms, each with a breathtaking view of the valley that stretches as far as the eye can see. Guests can enjoy the on-site restaurant. Nestled around the famous Periyar Tiger Reserve in Thekkady and lauded by WWF as one of the world's best maintained reserves forest's, it is home to rare flora and fauna. Located 700 m above sea level and an outpost of the British Raj, Thekkady promises cooler climes, aromatic spice plantations that border the sanctuary, old bungalows, traditional cuisine and wildlife sightings at the reserve.
One can enjoy nature walk to explore the surroundings and find many fruit plants, Ayurvedic plants, the coffee you drink, as well as the spices including pepper and cardamom you taste at the restaurant. This and so much more.