Fairfield by Marriott, Kathmandu
The Fairfield by Marriott Kathmandu welcomes leisure and business travellers to Nepal with a winning combination of space, style and functionality.
The hotel caters to both long and short term stays in Thamel, the real heart of Kathmandu with convenient access to Pashupathinath temple, Swayambhunath Stupa and Garden of Dreams.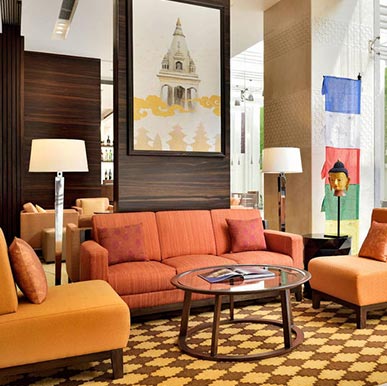 Pratap Niwas Palace, Jodhpur
Pratap Niwas is a boutique heritage hotel located in Jodhpur, Rajasthan. The old world charm and its modern amenities make it an interesting stay.
With 37 well-appointed rooms, some overlook the Jhalamand Village. The architecture is an amalgamation of Mughal and Mewar style, as seen in the stone carving, cupolas and jharokas or extended balconies. It takes you back to the era of royalty. The hotel also has an Al Fresco bar which overlooks the grand Mehrangarh fort, where one can enjoy the best of spirits.
The Desert Palace, Jaisalmer
Trulyy India recently launched a new property, The Desert Palace in Jaisalmer. A 57 keys hotel carved to perfection with exquisite architecture.
The heritage architecture is a reflection of the royal era. The property redefines the standard of hospitality and luxury in Jaisalmer.
Food is an important part of your experience at The Desert Palace. This and so much more.
Alia Fort, Bishangarh
Perched magnificently upon a granite hill, the bold, striking architecture of Alila Fort Bishangarh appears seamlessly sculpted. Located at Bishangarh Village in the Jaipur District, barely 6 km off the Delhi-Jaipur National Highway, Alila Fort Bishangarh is easily accessible from both Delhi and Jaipur. Sitting within close proximity of two major cities, the hotel serves as the ideal base to explore Jaipur's innumerable tourist attractions. With much care given to the ecological restoration, the resort still features the fort's original two-metre-thick walls and its battlement turrets and arches. This all-suite resort boasts of 59 stately suites that are designed for quiet indulgence.