Akshay Niwas, Udaipur
Akshay Niwas is an all-suite luxury Boutique Palace located in Udaipur.
The property has 10 individually designed and well-appointed suites with attached large modern baths. All the rooms are tastefully designed and equipped with modern amenities. Every room is perfect blend of traditional style and luxury. The property has an alfresco pool and roof top dining with lake view.
Forte Kochi
Forte Kochi is a heritage hotel brought to you by the creators of Kumarakom Lake Resort.
Once a palatial home built in 1860, Forte Kochi has been restored to its plush colonial glory.
Forte Kochi sits on the popular Princess Street of Fort Kochi, one of the oldest cosmopolitan port cities in the world.
The property has 27 well-appointed heritage rooms.
One can savour the choicest of world cuisines and seafood delicacies.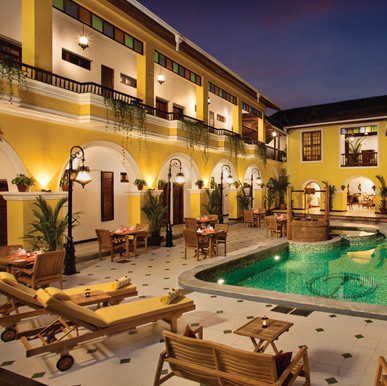 The Lodge at Wah, Palampur
The Lodge at Wah is a 6 bedroom property based on the largest working tea estate in Palampur, Himachal Pradesh.
Wah Tea Estate is spread over 526 acres and is nestled in the Kangra Valley in Himachal Pradesh. The proximity to the majestic Dhauladhar range allows for beautiful views of its snow-clad mountains almost around the year. The property is 100% eco-friendly and the materials used in its construction are wood, stone, slate and mud. Only 45 minutes from the world-famous site of Bir-Billing for paragliding and an hour from Dharamshala, the lodge is perfectly situated to enjoy the tourism in the area and yet remain in a tranquil part of the Kangra region.