Red Earth Tadoba
Red Earth Tadoba sits nestled on the periphery of the Tadoba Andhari Tiger Reserve, a biodiversity hotspot, the largest and oldest national park in Maharashtra. A laid-back resort exuding rustic charm is embraced by an untouched forest cover spreading over 15 spectacular acres. A babbling tributary of the Andhari river meanders through the resort. The property has 19 individual cottages overlooking the forest. Red Earth Tadoba is conveniently located 2.5 hours (190 kms) away from the Dr. Babasaheb Ambedkar International Airport, Nagpur.
CGH Earth Mantra Koodam
Mantra Koodam a CGH Earth Experience hotel is tucked away in a quiet corner of Veppathur, Kumbakonam. Kumbakonam is located right at the heart of the celebrated temple trail of South India. The resort is planned like a rural village, where you encounter quaint little delights at every turn. The resort also offers easy accessibility to Pondicherry and Chettinad, making it an ideal base for a trip through a bygone era. There are three types of cottages– the Mantra Cottage, the lavish 'Illam' and the luxurious family home 'Pannaiyar Illam', inspired by traditional estate owners' bungalows. The living spaces at Mantra Koodam offer an experience of the rare simplicity of village life alongside the historic opulence of South India's regal past.
Taj Aravali Resort & Spa, Udaipur
Taj Aravali Resort & Spa, is located in Udaipur. The hotel, set in 27 acres of land at the foot hills of the breath taking Aravali Ranges, takes its inspiration from the nomadic tents in the true tradition of Rajasthan. The resort has 92 well-appointed rooms, a sprawling all day diner, a pure vegetarian specialty restaurant with a separate kitchen, a bar, an outdoor grill restaurant, beautifully appointed banquet venues and well-manicured outdoor lawns. It also features a sprawling Jiva Spa with Ayurveda services. The luxurious, contemporary, comfortable yet functional rooms; offer beautiful views of the Aravali Ranges. They all have soothing and welcoming interiors with a blend of modern and traditional architecture.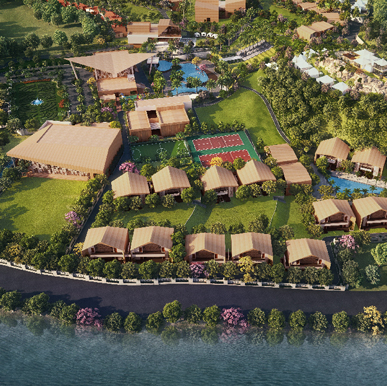 Shahpura Haveli
A splendid example of regal Indo-Saracenic architecture, the Palace in Jaipur combines the best of Indian and Mughal styles. The 300 -year-old palace is a celebration of the senses, underlined at all times by contemporary luxury. The 5 suites of Shahpura Haveli redefine the word comfort. Each room, with its own unique personality, is elegantly and luxuriously furnished. Guests are known to want to lose themselves in the maze of bougainvillea covered courtyards, connected by quaint narrow staircases and chance upon lounges adorned by charming arches, stunning mirror work, exquisitely painted walls and ceilings. Royal suites and rooms surround the courtyards, each with their unique personality and décor. Under the impressive Shahpura Fort, the private balconies, restaurants and dining areas – open out to the sky on clear days and starlit nights.