Paddav the Luxury Camp, Jaisalmer
Following the authentic safari style - Paddav The Luxury Camp is spread across six acres of land with 30 Luxury Warrior Swiss cottage tents along with new warriors stunning tented villa suites with attached contemporary designed bathrooms and balcony. Guests staying at the warrior Suites are hosted privately by the professional team of camp staff and a private chef. The resort is located at Sam Village, Jaisalmer in Rajasthan.
Cinnamon Thekkady, Kumily
Cinnamon is a luxury hotel located in the town of Kumily, near Thekkady in Kerala with 84 well-appointed rooms.
The property is positioned uniquely to give the easiest access to both the Kumali town and the Thekkady forest range.
Cinnamon has a rooftop pool which is an ideal location to take a swim and enjoy the view of the surroundings.
The Periyar Wildlife Sanctuary adds to the enigmatic settings of Thekkady, which is located near Cinnamon.
Dutch Bungalow,
Kochi
Dutch Bungalow is a heritage property located in Fort Kochi, Kerala. It was built in 1668 by the Dutch East India company and named as Crystal Palace. The hotel has 14 well-appointed rooms. It is situated in close proximity to the Beach, Parade Ground, Chinese Fishing Nets and St.Francis Church and a short drive to the Synagogue and Mattanchery palace. It is 40 Kms from Cochin International Airport and 12 Kms from Ernakulam Railway station.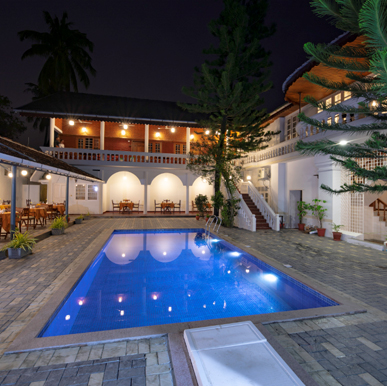 Napier House,
Kochi
Napier House is a 3 star property set in the recreational area of Kochi within meters of Bolgatty.
The hotel stands out with its Chinese architectural structure.
It is about 2.4 km away from Paradesi Synagogue. The distance between Kochi city centre and the property is about 4 kms.
A cathedral and a temple are set within walking distance of the property.
Napier House can be reached in 35 minutes by car from Cochin International Airport.
Abad Brookside Lakkidi, Wayanad Resort
Abad Brookside Lakkidi is located in Lakkidi, the peak in Wayanad, Kerala. The property has 30 rooms spread out across a seven acre valley with an infinity pool, Ayurveda spa and wellness centre and a multi-cuisine restaurant. A brooke runs through the edge of the resort. The cottages have a balcony / sit-out providing excellent view of the adjoining forest. The luxurious Brookside Lakkidi is built in the heart of this monsoon paradise so that visitors can enjoy the natural beauty especially during the rains. The resort has been designed to offer travellers an escape from the city life.