Tiger Trails, Tadoba
TigerTrails Jungle Lodges located in Tadoba, Maharashtra is a very fine example of how the owners have combined saving nature with allowing people to see it, enjoy it and care for it. Ringed on three sides by the Park forest, the lodge is an extension of the Tiger reserve and is located adjacent to the Khutwanda gate, which is the entry point into the National Park. The Lodge area is untouched by any kind of tourism or development and offers the guest complete privacy. Since the forest starts from a few feet away of the Lodge, tiger calls come creeping close. Trail Cameras introduced a decade ago monitor their forests for wildlife activities and can be seen online. Tadoba is the only tiger centric park in India to offer nature visitors a wide range of wildlife viewing opportunities from full day jeep safaris and photographic hides to canoe and walking safaris.
Samskara Resort & Spa, Jaipur
Samskara Resort & Spa is a one-of-its kind luxury boutique wellness resort geared to detox, de-stress and de-clutter the mind body and soul, located in the tranquil farmlands near Jaipur. Samskara's hotel rooms and suites are designed with classic elegance and blend seamlessly with the lush surrounding landscapes. The resort promotes farm to fork concept; meals prepared in the restaurant consist of fresh ingredients for the guests. One can enjoy a morning stroll through lush greenery, flower filled meadows and creeper plants giving a glimpse into the ecosystem of the natural surroundings.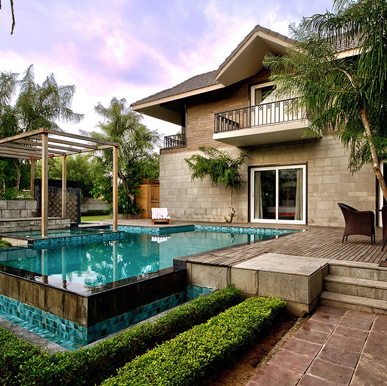 Shikwa Haveli
Shikwa Haveli is located less than 30 Kilometres from the historic Red Fort of Delhi on the mound of village Katha on the banks of river Yamuna. The 15 year long painstaking and meticulous process of extensive restoration, reconstruction, renovation, refurbishing and furnishing, completed in 2009, has brought the 700 hundred year old structure to its glory of the era gone by. Today, commanding a majestic view of the Yamuna, the fields and the vast plains as far as the eyes can see, the mansion has six guest rooms with modern attached bathrooms, four Lounges, a hall and three Special Rooms have been aesthetically, tastefully, elegantly and artistically furnished, preserving the great heritage and ambience of the era gone by with the comforts of now.
In the middle of a living Indian village but away from all distractions and yet so close to the capital city of Delhi, Shikwa Haveli with is an ideal place for an experience of the lifestyles of the royals, the nobles and the landlords of yesteryears.