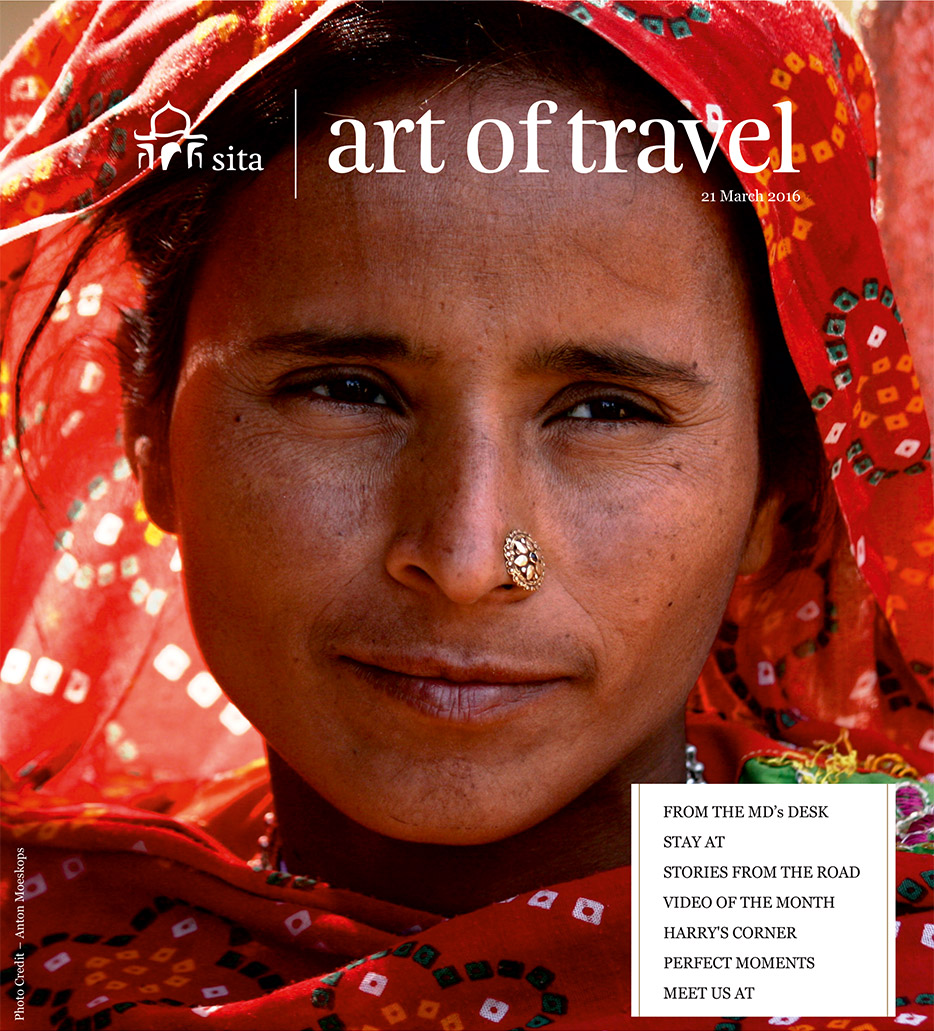 MOST AWARDED TRAVEL COMPANY IN INDIA
FROM THE MD's DESK
Hello!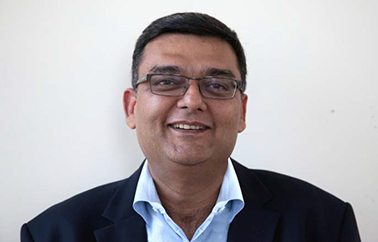 Dear Travel Professional,
We recently launched our annual Art of Travel Brochure at ITB, Berlin. In its fifth edition now, the brochure features the best of what the Destination Knowledge Centre has explored over the past year along with recommendations of their favourite books, product ideas, stays they loved and much more, spread across forty pages in a unique design format coupled with bright colours. Ever evolving travel trends and client demands oblige us to innovate and differentiate products along various lines, whether it is indexing our tours on Sustainability or our conviction for CSR or our new Audio-Visual initiative - India Handheld - creating short films on Destination India and beyond. This edition of Art of Travel focuses on our evolving strategies of differentiation and show case products that echo this sentiment.
Do write to us for a copy.
See you soon.
Regards
Dipak Deva
Managing Director
STAY AT
The Wilderness Camp at Dera Amer, Kukas Village near Jaipur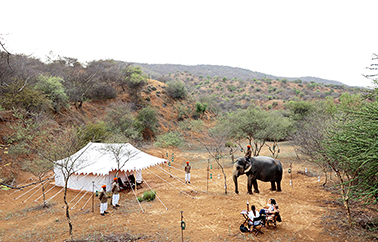 The Wilderness Camp at Dera Amer is set up in a private camp in the foothills of the Aravalis with only four well-appointed, comfortable tents with attached bathrooms. Best part it will be given to one party, be it two or eight people. Arrive at the medieval Gopal ji Temple, and receive a traditional Indian welcome before being seated on your elephant, handed a flute of sparkling wine and then transported by the gentle giant to the camp. There is time to freshen up before proceeding to witness the beautiful sunset from the rocks where sundowners are served. In the evening, take in the calm of your surroundings, and the beautiful night skies as you sit next to the crackling bonfire being served cocktails and snacks from the live barbecue. Your personal chef will prepare the evening meal and a local musician entertains you with traditional ragas, passed down to him through the generations. Dine under stars listening to the sounds of the jungle. Wake up in the morning and spend some quality time with your elephant as breakfast is prepared for you. Enjoy an early morning walk, listening to the gentle rumble of the elephant as she sashays along as you stroll to the nearest village.
Our Explorer-in-residence Kuntil Baruwa had spent 2 wonderful days at the Dera Wilderness Camp last month.
Download his report here – click here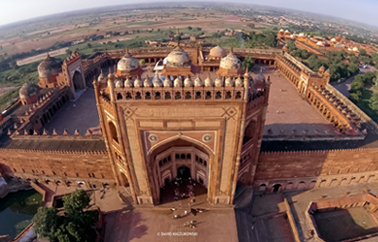 Explorer-in-residence Kuntil Baruwa and our video editor Saurabh Rai just returned from a 2 weeks road trip shooting videos of the City Tours of North India. While on trip Kuntil ponders 'Is how and from where your clients enter and end their visit of a historical monument important ?'
Here are his thoughts regarding the same for a monuments that we cover and another that we naively miss:
Fatehpur Sikri : We all know that our clients are taken on small CNG buses from the parking lot (or whatever that is with all the hawkers) to Fatehpur Sikri which used to be a town larger than London when it was originally constructed in the late 16th century. Probably a few know that there are 8 such buses ferrying our clients to and fro. But did you know that Fatehpur Sikri has two entrances – 1. The Diwan-e-Aam Gate (locally known as VIP Gate) 2. Jodha Bai Gate (named after Akbar's Rajput wife) and that 4 buses are assigned to each gate. And through which gate should your clients enter and why? Your clients should enter through the Diwan-e-Aam Gate (locally known as VIP Gate) and exit through the Jodha Bai gate. Here's why. The Diwan-e-Aam gate is through which the general public during the days of the Mughals would enter Fatehpur Sikri perhaps stopping at the imperial market before that whose ruins only remain today. But it is not difficult to imagine how colourful, busy and beautiful a market it must have been during the days of the yore. After spending time in the Diwan-e-Aam reserved for the general public and where the Mughal Emperor met them, we move to the royal quarters where I was blown away by the small yet stunning quarter of Akbar's Turkish Sultana with its astonishing, gorgeous intricate work on sandstone. Ahead we are taken to the grand quarter of Akbar's Hindu wife Jodha Bai with its jade roof tiles from Tibet which I thought was really special, unique and stands out in this massive red sandstone complex. This is where the tour ends. We then exit through the Jodha Bai Gate and board the bus to get back to the parking lot to proceed to Agra/Jaipur. Entering through the Diwan-e-Aam Gate (locally known as VIP Gate) and exiting through the Jodha Bai Gate is the right way to experience Fatehpur Sikri as the story progresses from the Aam (common) to the Khas (special). Should your clients enter from the Jodha Bai Gate and exit through the Diwan-e-Aam Gate (locally known as VIP Gate) – I have seen many foreigners with their guides doing that- the story progresses in the reverse from the Khas (special) to the Aam (common) and it is like entering someone's house from the backyard.
VIDEO OF THE MONTH
The Wilderness Camp at Dera Amer
The Wilderness Camp at Dera Amer mentioned in the 'Stay At' section is your very own private getaway. Click on the video to see what all the camp has to offer as well as how to include it into your North-India itinerary.
HARRY'S CORNER
Product Update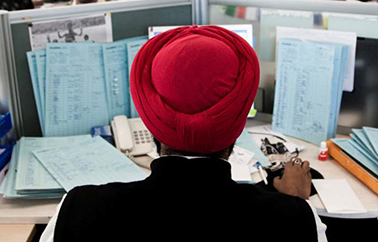 Here we are with a new section for you – Harry's Corner. Harpreet or Harry heads our procurement team and will be coming to you every month with relevant product updates. Read more
PERFECT MOMENTS
Annual Photo Contest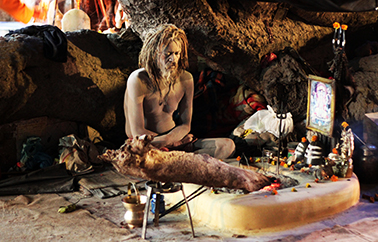 Sita conducts an Annual Photo contest which is open to all its employees and partners globally. Ekaterina Belova, Team Manager, Sita won the photo contest this year. Her winning photograph features an Aghori Sadhu which she shot in Haridwar. Aghori Sadhus are devotees of the fierce manifestation of Lord Shiva and live by themselves on the fringes of society and spend their days in pursuit of moksha (liberation) from the cycle of reincarnation. She is the proud winner of a Canon Gift Voucher. This time the Annual Photo Contest received over 677 photographs from participants across the globe.
MEET US AT
Upcoming Trade Shows in 2016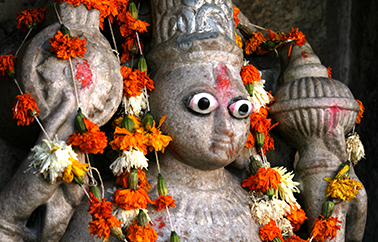 To view the list of upcoming trade shows click here
If you wish to schedule a meeting, do e-mail us at info@sita.in