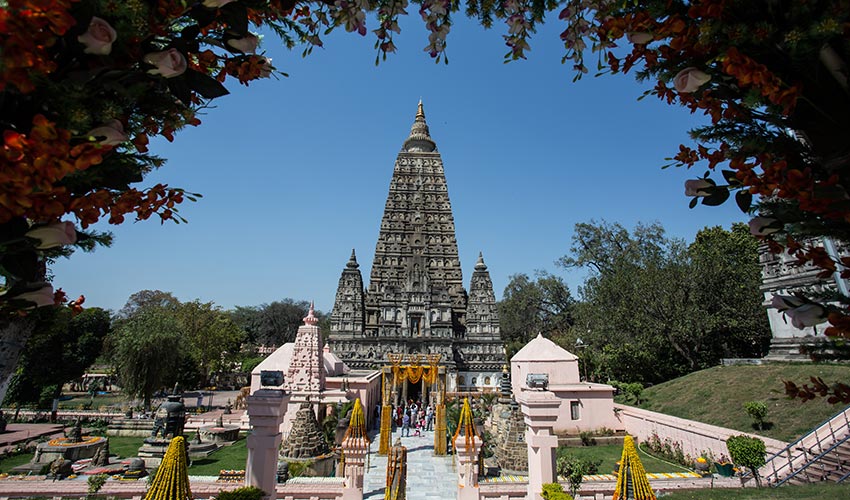 What is fascinating about these 7 spots at Maha Bodhi Temple is what the Buddha did over 7 weeks before he left for Sarnath in Varanasi for his first sermon. Yes these 7 spots and what the Buddha did at each spot are notoriously saladed with allusions, hidden symbolism and legends and super human acts. But I had come prepared. Thanks to the chat I had with a colleague of mine in Bhutan. He simplified the utterly complex Himalayan Buddhism for me very patiently like the Buddha himself that day in his Thimphu office. And the take-aways from this 7 different spots at the end of my morning tour of the Maha Bodhi temple was amazing. My guide talked about "demons" asking Buddha if he has any witness to his enlightenment and then he went to elaborate on Buddha's bhumisparsha-mudra (a hand gesture of the Buddha pointing towards the earth calling it to be his witness). I replied "could it be also that the Buddha is telling us through this hand gesture that one needs to remain aware of being rooted in the earth". My guide said "that's an interesting interpretation".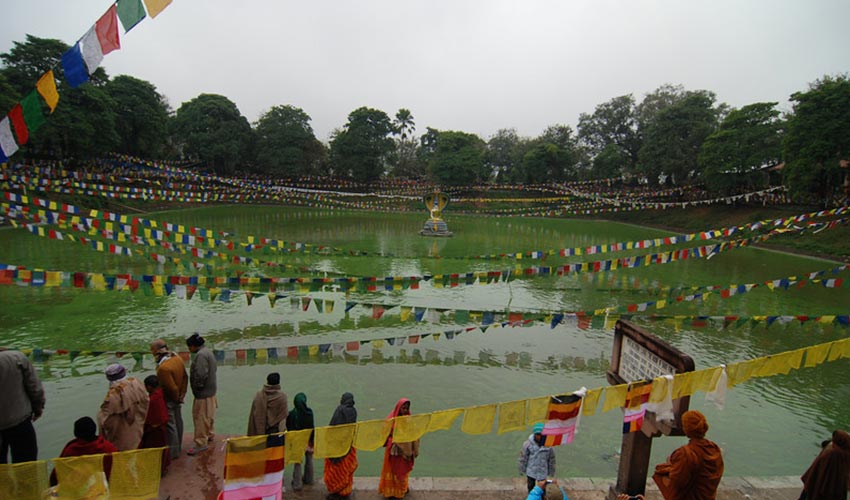 THE FIRST SPOT: We went to the Mucalinda Lake (The Abode of the Snake King). Here one can see a statue of the Buddha in meditation protected by the hood of a giant Cobra. The story goes that a severe thunder storm broke out while the Buddha was meditating and Mucalinda, the Snake King protected him from the elements until the great storm cleared. The Mucalinda Lake has also lot of fish. Visitors to the Mahabodhi Temple feed rice flakes to these fishes. My Buddha takeaway: You can't consider yourself successful in life unless you have contributed towards the success of others.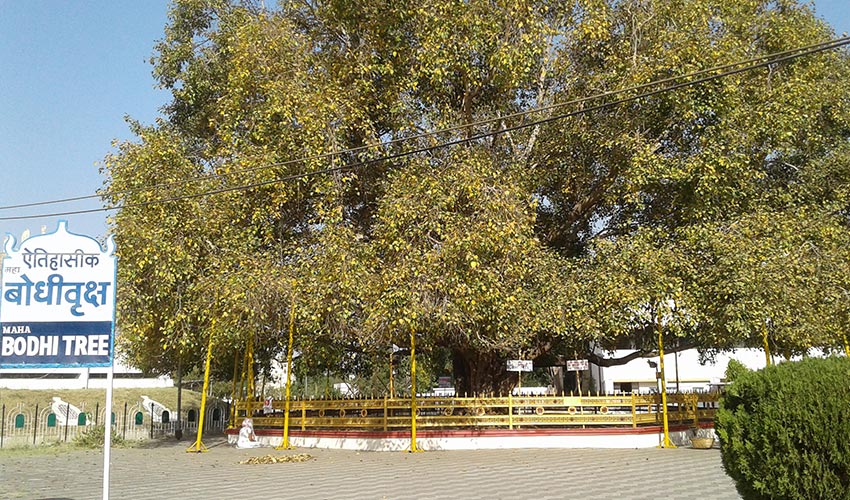 THE SECOND SPOT: The most pious spot in the Mahabodhi Temple. The Mahabodhi (Fig) Tree. This is where the Buddha meditated and gained enlightenment. Here you are completely calm. You are totally relaxed. I saw people meditating, praying and there was this gentleman from Bangladesh who was with his family members doing rituals. He was to be ordained as a monk today evening. It was his big day and he was all smiles. I complimented him in Bengali and he asked me where I am from. There were at least 100 Dalit (a group of people traditionally and still regarded in certain parts of India as untouchables) men and women pilgrims from Maharashtra in Western India, listening to their tour leader in rapt attention. Reminiscent of the Father of the Indian constitution, Dr. B. R. Ambedkar's embracing Buddhism and his call for the conversion of Dalits to Buddhism. My Buddha takeaway: There are no shortcuts in life.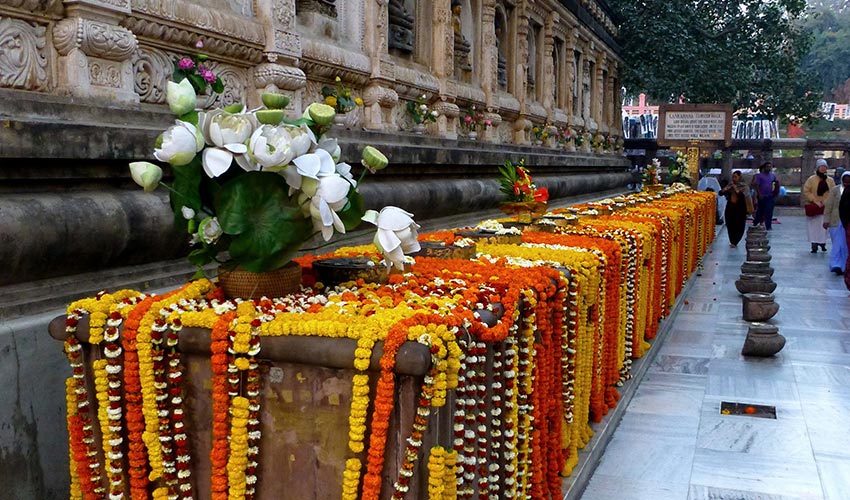 THE THIRD SPOT: From the Mahabodhi Tree we went to this spot called Cankamana where the Buddha spent a week walking up and down. There is a raised platform with lotuses engraved on it. The lotuses indicate the places the Buddha's feet rested while walking. Right next to Cankamana, I saw a Vietnamese nun and a Monk from Ladakh sweating from the rigorous prostrations that they were doing. It was almost like Surya Namaskar (Salute to the Sun) asana (posture) of classical Yoga. My Buddha takeaway: Walk, Jog, do Yoga, go to the Gym if you want to. Whatever maybe your choice. Have an active, healthy life.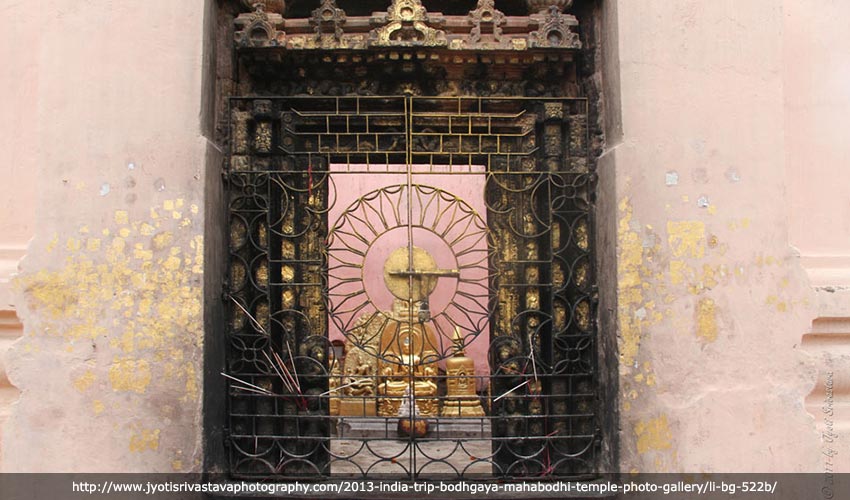 THE FOURTH SPOT: Ratanaghara or the Jewel House Shrine where the Buddha spent a week in meditation reflecting on Patthana or Casual Law, which is one of the fundamental doctrines of Buddhism; that all things in the universe are interdependent, impermanent and constantly changing. It is said that blue, yellow, red, white and orange rays emanated from his body while the Buddha was meditating here. These colours are used in the present day Buddhist flag. My Buddha takeaway: In this constantly changing world count your blessings and your good fortunes. You are lucky. Not everyone is. Be prepared and embrace change.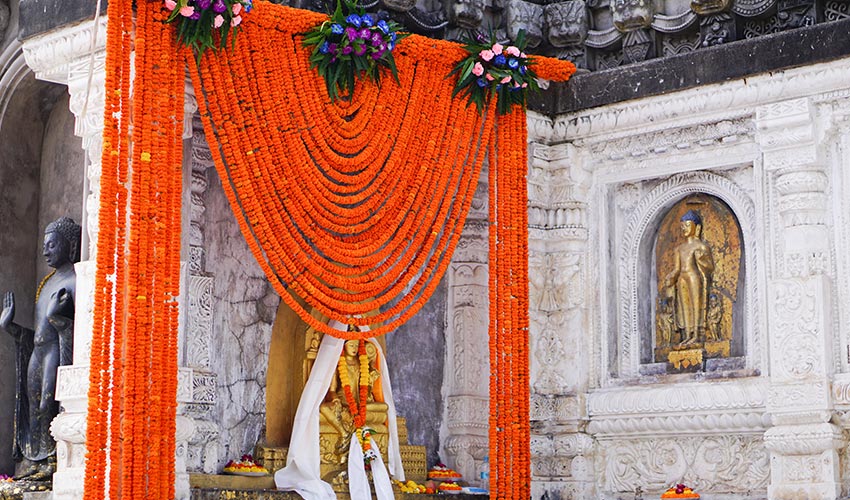 THE FIFTH SPOT: Animisa Lokana was our next stop. It is said from here that the Buddha spent a week gazing at the Mahabodhi Tree where he gained enlightenment without blinking his eyes. My Buddha takeaway: Always be grateful . Show your gratitude. Don't forget to say Thank You.
THE SIXTH SPOT: Ajapala Banyan Tree. When entering the main gate and descending the stairs towards Maha Bodhi Temple, there is a stone pillar marking Ajapala-Banyan tree which is no longer there. It is also here Lord Buddha, while responding to a question raised by a Brahmin (the priestly and highest class in the Indian caste system) that it is good karma(action) alone and not birth which makes one a Brahmin. Touch the lives of My Buddha takeaway: people in a positive way and actions speak louder than words.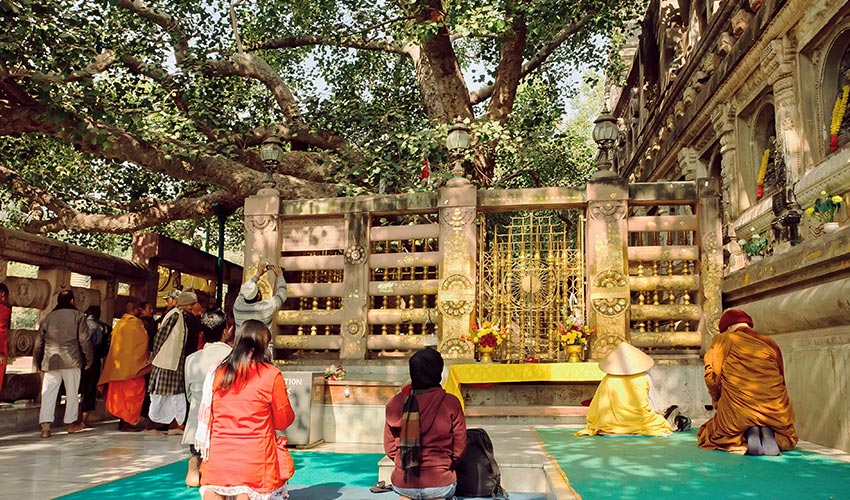 THE SEVENT SPOT: Rajayatana is where we ended our tour of the Mahabodhi Temple. It is here under a Banyan tree that the Buddha meditated for a week. At the end of his meditation two merchants from Myanmar offered rice cake and honey to the Buddha. In return he gave them eight strands of his hair and the gem of all Buddhist sermons "Buddham saranam gacchami and Dhammam saranam gacchami" (I go to the Buddha for refuge/I go to the Dhamma for refuge). These eight strands of hair are believed to be placed as relics inside the Shwedagon Pagoda in Yangon. Be a good listener. Be receptive to new ideas. My Buddha takeaway: Recognise and promote good ideas and work. Leave behind a legacy.
And the Buddha also said "Believe nothing, no matter where you read it, or who said it, no matter if I have said it, unless it agrees with your own reasons and your own common sense."